Runtime Environment
Windows 10 64bit

SSVEP, ERP

Drowsiness detection
Development Environment
o    Eclipse Java EE IDE for Web Developers
o    JDK
Version : 10.0.2

Drowsiness detection
o    Python3 installation
o    JAVA – Android Studio installation
Get Started
SSVEP / ERP

Open the Biosemi Labview and setting the option(sampling rate, channel, etc.)

Setting the parameter of python / Java code(trial, stimulus time, etc.)

Start the Boisemi Labview

Execute python / Java program

Drowsiness detection

Wrist wear and power on the Empatica E4 device

Connection with a PPG measurement program

Button control of the PPG measurement program

Offline: For storing PPG data

Online: Real-time PPG measurement and drowsiness recognition
Overall description of source code
SSVEP / ERP

Creating the visual stimulus of SSVEP / ERP

Acquisition of EEG data of SSVEP / ERP

Preprocessing the EEG data of SSVEP / ERP acquired.

Feature Extraction (Common Spatial Pattern, Canonical Correlation Analysis, etc.)

Classification (Linear Discriminant Analysis, Support Vector Machine)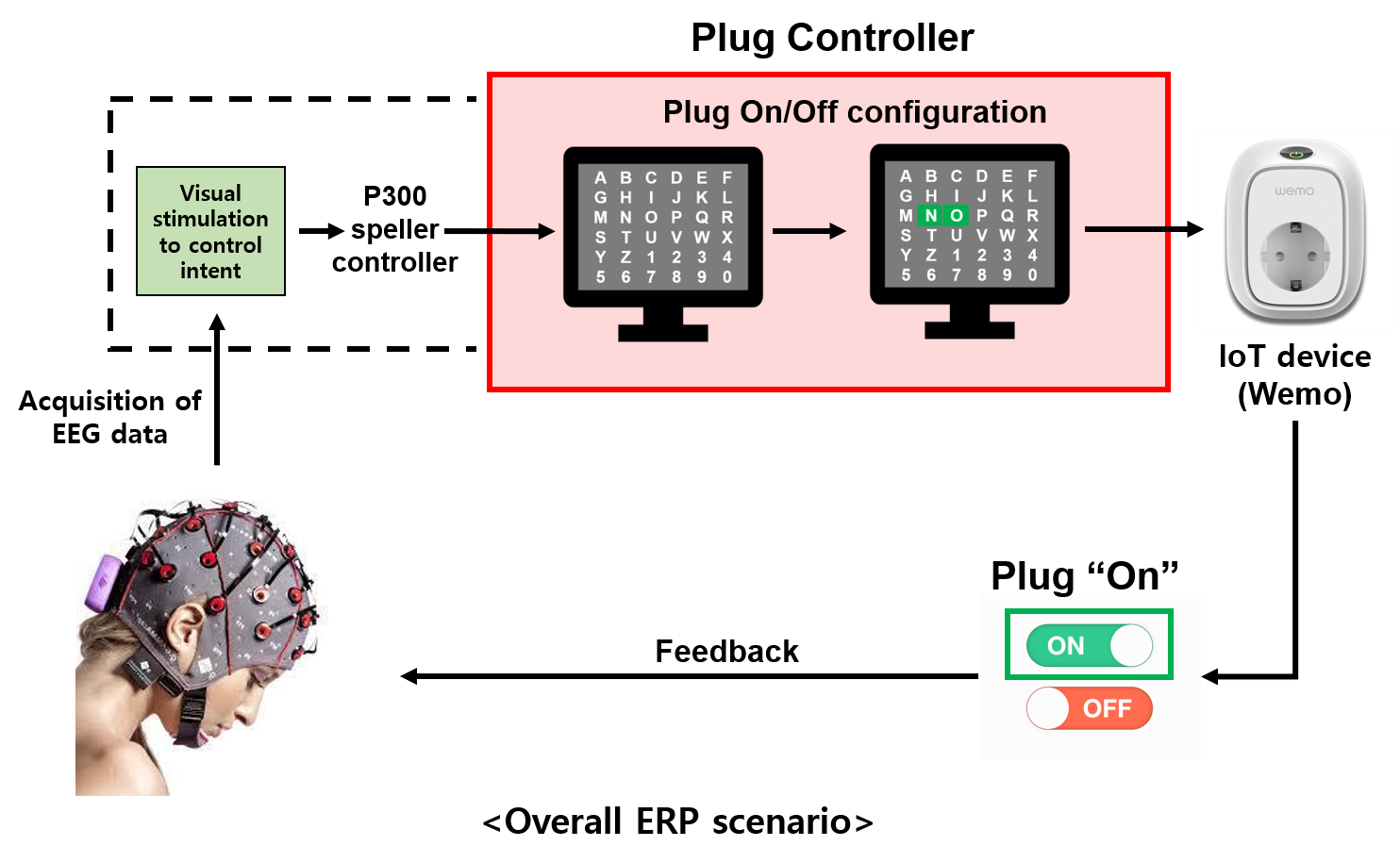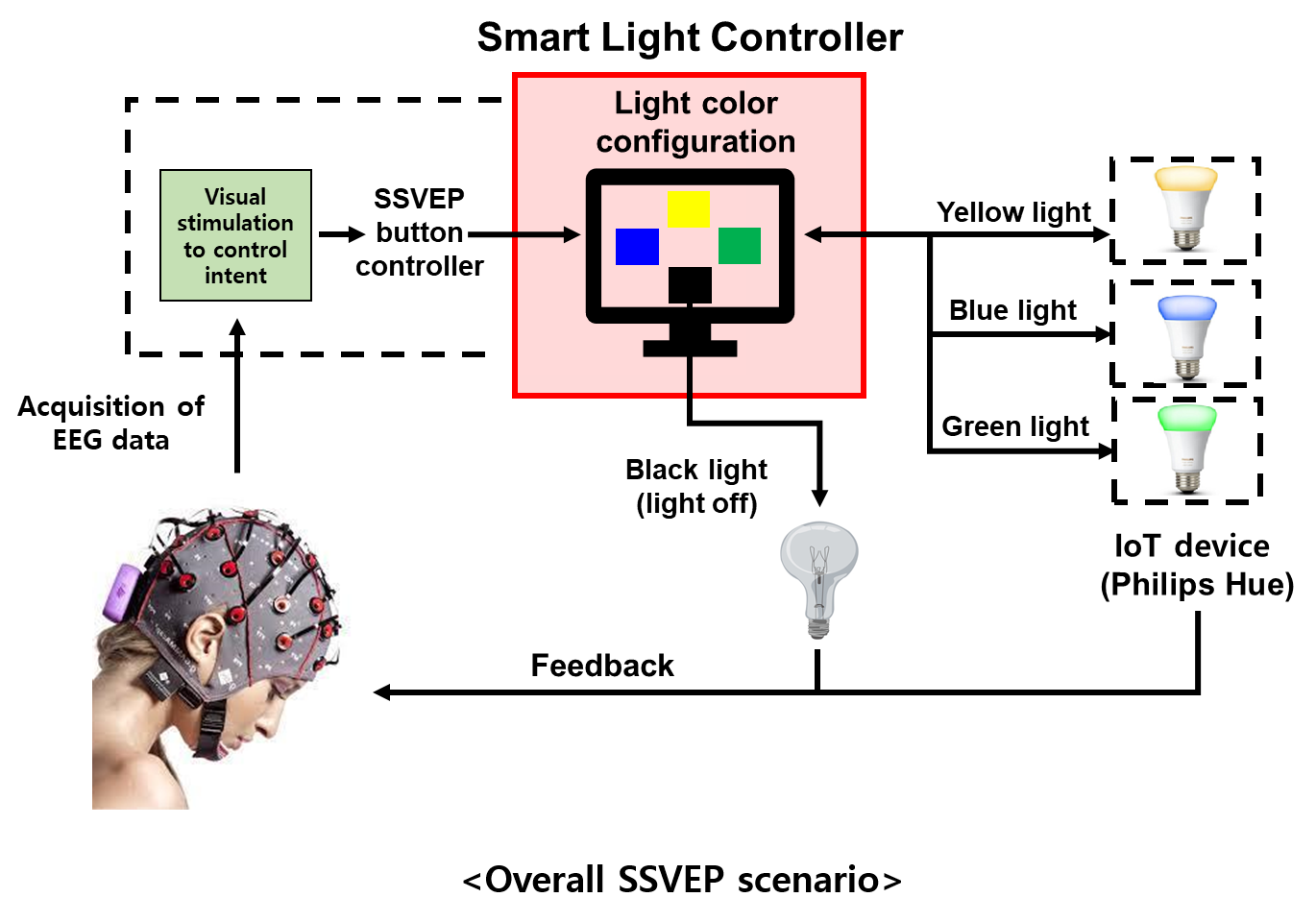 Drowsiness detection

Acquisition of user's PPG data using PPG measuring device ('Empatica E4')

Real-time communication of acquired PPG data

Classifier model training using acquired PPG data (offline)

User state classification using PPG data acquired in real time (online)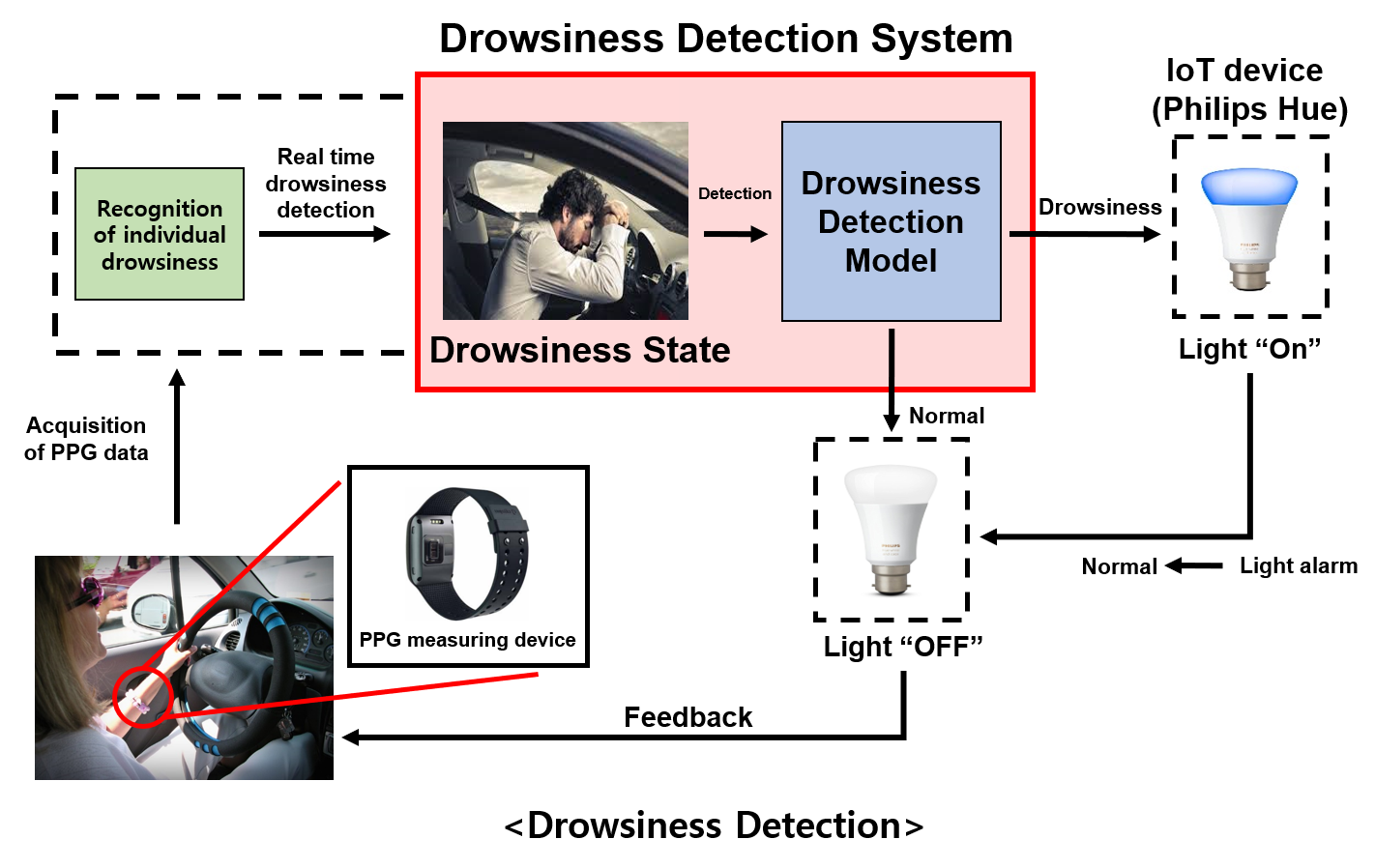 The development of Intention Recognition Technology based on Brain Signals
---
Introduction
The goal of this project is to set up a technology for controlling external application using human implicit intention.
Data from the EEG extraction device is transmitted by TCP/IP protocol.
We use the EEG-based BCI paradigms to control IoT device.
Among the BCI paradigms, we use Steady-State Visual Evoked Potential (SSVEP) and Event-related potential (ERP) to recognize human intentions.
We developed the on/off control technology of Philips Hue lamp through human drowsiness state recognition based on PPG.
The IoT device used in this technology are Philips Hue lamp, Belkin Wemo Plug, etc.